"Tuberculosis is an infectious disease and miners are at higher risk of getting TB due to the type of environment they are working in, due to dust (silica) they are inhaling, overcrowdedness, poor ventilation and migration"
The TB in the Mining Sector in Southern Africa Programme (TIMS) was initiated as a coordinated response to the issue of TB and related illnesses in mineworkers, ex-mineworkers and their families and communities in Namibia. DAPP Namibia, in-close cooperation with the Ministry of Health and Social Service implemented TIMS successfully between June 2016 to December 2017 with financial support from the Global Fund to Fight HIV, TB and Malaria.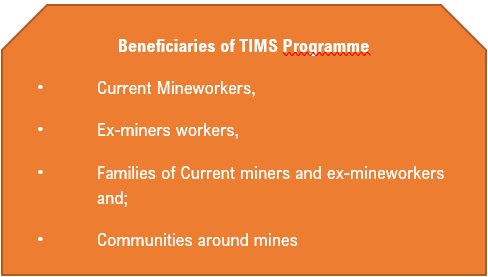 Implementation of TIMS began in December 2016 with the target of 19,000 people to be reached and screened by December 2017. The programme goal was to identify TB cases and have all those identified placed on TB treatment. Since this was a pilot phase, TIMS was only implemented in the 6 mining towns of Tsumeb, Otavi, Karibib, Swakopmund and Walvisbay where it worked closely with three mines: Dundee Precious Mine, Tschudi Mine, Navachab Gold Mine, Langer Heinrich Gold Mine and Ohorongo Cement.
TIMS focused on the following activities:
TB Education/awareness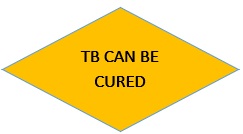 All individuals or groups reached were first made to understand what TB is, how one can get TB, and the ways to prevent oneself or family form getting TB, HIV and its relation to TB.

Actively finding TB cases
The TIMS programme trained field officers to go out in the field (workplaces, mines and households in the communities) to conduct TB awareness.

Screening for TB
Screening is a process of asking a client a set of questions that were developed based on Ministry of Health and Social Services guidelines to identify TB symptoms in an individual. This is part is done individually and in privacy after an education session. If a client/person is found with TB symptoms, his/ her sputum is collected and sent to another laboratory for testing.
If TB is found during testing, the infected person is taken to the health facility to start TB treatment. The programme also trained TB clients and family members how to support the TB patient in taking their medicine until treatment is complete.
Programme results:
By December 2018, TIMS exceeded its target with 19,478 key population members screened for TB, of this 9 % were found with TB symptoms and were linked to health facilities for testing and all those who were diagnosed with TB were placed on TB treatment.
"TB is spread through the air from breathing in bacteria from an infected person"
NOT EVERYONE WITH TB HAS HIV AND,
NOT EVERYONE WHO HAS HIV HAS TB,
TB TESTING AND TREATMENT IS FOR FREE AT GOVERNMENT HEALTH FACILITIES